Still in Wisconsin and thought I'd toss out a couple of trivialities that might be worthy of interest. Only one has seemingly archaeological implications.
First up, a silo:



That's a silo on the side of Hwy 151 between Fond du Lac and Pipe. I believe it's been there since at least I was a kid. It's on the way from our family home to Chiltonwhere my mom's mother lived and we went up there a LOT. I actually used to hate going up there all the time to pick beans, or till the garden, or whatever. Anyway, I probably passed that thing hundreds of times and always just viewed it as a relic of some bygone age when there was something besides Miller, PBR, etc.
It's a fairly innocuous beer, a typical American light lager with corn/maize grist in as a flavoring. It was, apparently, a bit more hopped than normal but otherwise not very exceptional. One of many local beers that flourished in the early-mid 20th century. You can get some of the history here and here:
Though fuller in body, slightly darker and somewhat more hop-driven than the premium American lagers that exist today, the beer would immediately be recognizable to most modern beer drinkers. Capital's Supper Club would be perhaps the most comparable of the beers that are currently available, though it too would be less substantial than the Chief Oshkosh of the 1930s and 1940s.

American beer styles had begun growing less robust even before Prohibition and the trend towards lighter beer accelerated after repeal. Chief Oshkosh Beer was swept along in the pale wave. In 1950, Chief Oshkosh was redesigned again to make the beer lighter. OBC Treasurer Lorenz "Shorty" Kuenzl described it as a "Pilsener beer that would appeal to all kinds of beer tastes in people."
I bring this up only because the silo sign is still being maintained by the owners of the property! Last Fall when I was here I noticed the silo again, probably because I've taken to experimenting with home brewing and been reading up on beer in general. When I got back to Seattle I remembered seeing the silo but not where so I took to a local Facebook page and asked around and, sure enough, someone knew right where it was. So this trip I went on a short field trip to have a look again and snapped the above photo. I really appreciate that they're maintaining it like that; the beer is long since gone but at least we have something there that reminds us of our past. BTW, I tried the above recipe but ruined it (my first batch that was undrinkable). I may have another go at it.
Next up, a shopping mall: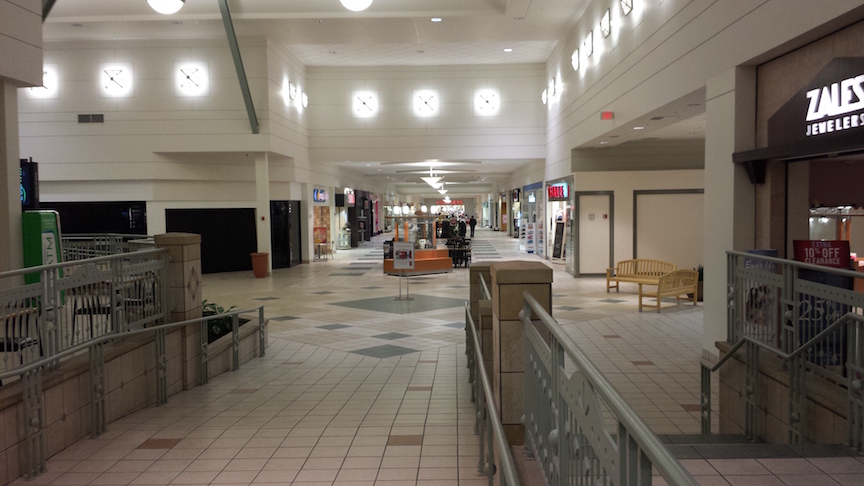 That is Forest Mall in Fond du Lac on a Thursday evening and yes, it's pretty dead. The mall has fallen on hard times these days:
Simon renovated the mall in 1998, adding skylights and new flooring.[5] In 2006, several new stores opened at the mall, although most were local retailers.[6]

In May 2014, the J. C. Penney closed, the last of the original anchors in the mall.[7] The Sears store closed November 2 of the same year, as did the Forest Mall Cinema.
According to that Wiki link, it opened in 1973 — when I was 11 — and, like most shopping malls of the time was The Place To Be. I guess the 1970s and early 1980s were the glory days of shopping malls generally. Now, not so much. There are several links around to documenting abandoned (or largely so) shopping malls (see here, for example) and it's quite fascinating, if a bit saddening, to click through some of them. I guess the previous generation would view run-down downtown areas much the same way. Hanging out at the mall was a form of entertainment. I recall the video game arcade in ours as well as the Coach House Gifts quite vividly.
As the Wiki link indicates, it originally had four anchors: Montgomery Ward, Penney's, a place called G.C. Murphy that I seriously don't remember, and the H.C. Prange department store (the Prange Way was the Prange company's K-Mart, more or less). I don't remember when the "Monkey Ward" went out (I moved away in 1985) but Penney's just left a couple of years ago, as did the movie theaters and the Sears (which was after my time).
I counted 12 empty spaces, including the two big big anchor areas which are now just blocked off by walls, but not including the theaters. There's around 32 spaces in operation now. Most of the time I've been there (usually to go for an evening walk in inclement weather) it's been about that dead. Not sure where all the people have gone, probably over to the WalMart and Target stores at the edge of town. But as this article suggests, mall shoppers are going up to Appleton or down to Milwaukee for much larger and newer malls. I think it's mostly the WalMart and Target for casual shoppers though.
I'm not sure how they can resurrect the place; that link says it was recently sold to a new developer. I read an article a few months ago about how some malls (indoor or outdoor) are reinventing themselves as "destinations" rather than just for shopping. They're putting in some better restaurants so people will actually go to the mall for lunch or dinner for instance. Making the mall more of a shopping-dining-entertainment place rather than just a shopping center. As it stands now, there are some fast food places out in the parking area nearer the road but only a single Orange Julius in the mall proper. As they say, Forest Mall just can't compete with the larger malls relatively nearby so just loading up on Wet Seals, Express's, and Claire's's probably won't cut it. It would definitely need some places to eat. I would think a Starbucks would do well, especially if it has a decent amount of indoor (for the winter) and outdoor (summer) seating areas. I don't know how upscale they could go in this area though, as far as dining destinations. But we'll see. I hold out hope they can reimagine the place and make it into something more than a destination for mall walkers.