Cereal!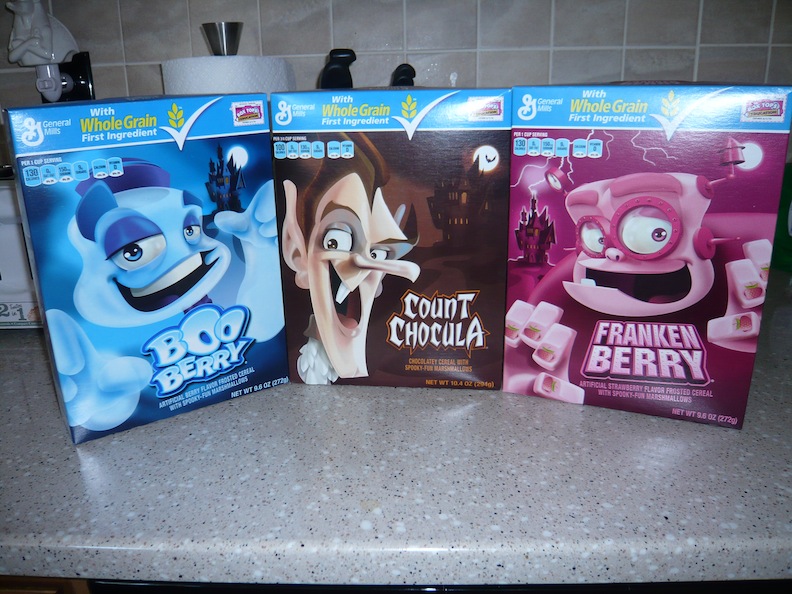 Ha! I'd been seeing these around, but never bought any (I don't think) since we were kids. I don't remember this about it though:
In February 1972, Franken Berry cereal included dye that turned some children's feces pink due to an inability to break down the heavily dyed breakfast food, a symptom sometimes referred to as "Frankenberry Stool.
Eww.
We kids had to claim one for each of us, of course. I had Count Chocula, my sister claimed Boo Berry, and my brother took Frankenberry as our favorites. The commercials had the monsters talking, and Count Chocula had a Bela Lugosi voice, Boo Berry sounded like Peter Lorrie, and Frankenberry was Boris Karloff. According to the Wikilink, they've produced them continuously over the years, but I don't remember seeing them much after the 1970s. They've been bringing some of the old ones back occasionally, I've seen Quisp a few times (my absolute favorite), but I haven't ever seen Freakies again (We are the Freakies, We are the Freakies, And this is our Freakies tree, We never miss a meal, Cuz we love our cere-eeel!).
Weird, I know.