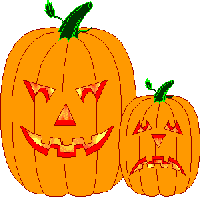 My evening: Sitting in the living room waiting for the rare knock at the door. Last year I got all dressed up in my best Indiana Jones — complete with Nerf cracking whip! — and got like two groups. And one was just the neighbor kids. So this year I am not dressing up, plugging in the computer and watching college football on ESPN360.
I have some Lindt's truffles for the neighbor girls and I'm dumping the Butterfingers off on the ToTers. I dislike Butterfingers, except for the Butterfinger Crisps which are my form of crack. I made the Jack-o-Lantern a real Jack-o-Lantern: a cat figure with one eye. Something like this:
I'll get a photo of it a little later. Have a great Halloween!
UPDATE: Guess I'll live blog Halloween from ArchaeoBlog Manor.
6:50: Nothing yet. Badger threw up, so I guess that's our treat for the night. Or trick. I have the South Carolina/Tennessee game on ESPN360. If all the games are blowouts I may have to switch to DVDs. The ArchaeoWife is downstairs working on school stuff leaving me, Daisy and Badger to watch for ToTers. Hopefully, Daisy won't flip out when the first band of miscreants comes to the door and re-break her leg or anything.
6:58: First bunch! A witch, a Darth Vader, and a. . .well, something. Daisy stayed put but got down from the guard tower after they left. I'm generous with Butterfingers. . . . .
7:11: ESPN360 is kind of cool in that you can watch a bunch of out-market games on the computer, but they have the same commercials over and over. Interesting though, when they go to the studio, they just keep the live feed from the field going so you get silence and just a view of the field.
7:43: Ooookay. No more ToTers. Yeeeeup. Here we are, waiting for those ToTers.
Here at ArchaeoBlog manor.
Yup. Waiting.
Did I mention that Daisy likes chasing Nerf darts? We're doing that.
While we wait. . . . .and wait. . . . .and wait. . . . .[cue Casablanca]
8:02: A couple of them were right next door, but they apparently went elsewhere. Hmmm. I have decorations up. Maybe word got around that we're giving out Butterfingers.
My best Halloween costume was my least elaborate: when I was at Madison I just put a paper bag over my head and went as a member of Alcoholics Anonymous.
Aha! Second group! Neighbor girl and her friend. Got rid of some of the Lindts. The other neighbor girl is off in a different neighborhood so she doesn't get any! All the more truffles for me.
One of the two had on one of those "sexy witch" outfits which I think are a tad bit inappropriate for young girls (well, not that sexy but I think fishnets are pushing it). Of course, if any 29-year olds came by like that. . . . .
9:37: Oh well, two whole groups, same as last year. Don't forget to set your clocks back!